SEO Audit Tool Features
– Comprehensive review of your website's current usability based on mobile friendliness, Google Analytics (for traffic tracking and analysis), and Page Speed Insights
– Recommendations on how to improve page load speed and response times
– Assessment of your site's overall security (Includes malware detection and blacklist status)
– A full report on your site's organic traffic performance and recommendations for improvements on technical, on-page, and off-page SEO
– Overview of paid traffic performance (estimated traffic, keywords detected, SEM vs SEO ratio)
– Review of existing social media channels (likes, follows, engagements)
– Recommendations around HTML tags: meta descriptions, alt tags, headings, title tags, etc.
– Printable SEO audit and web audit results (Save as PDF option available)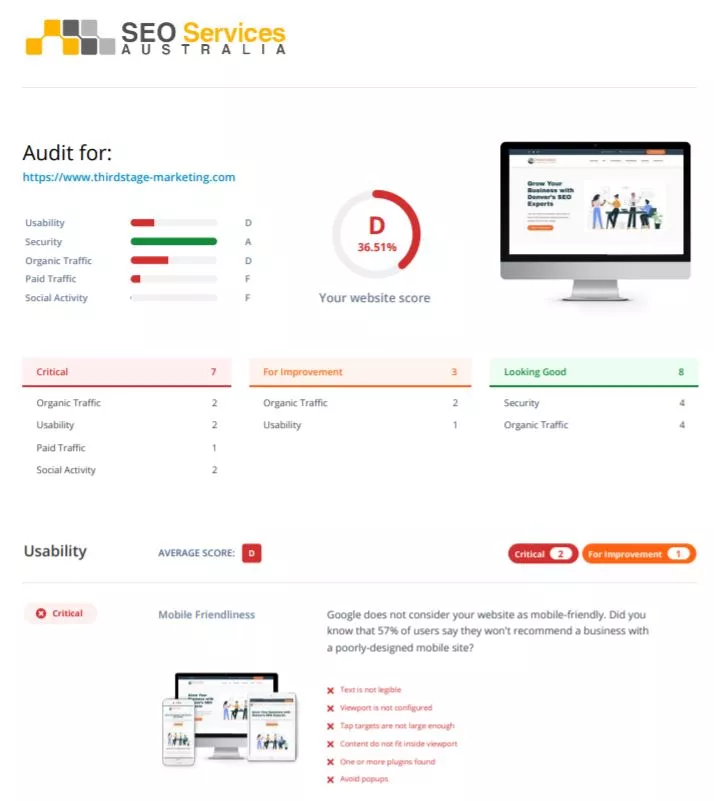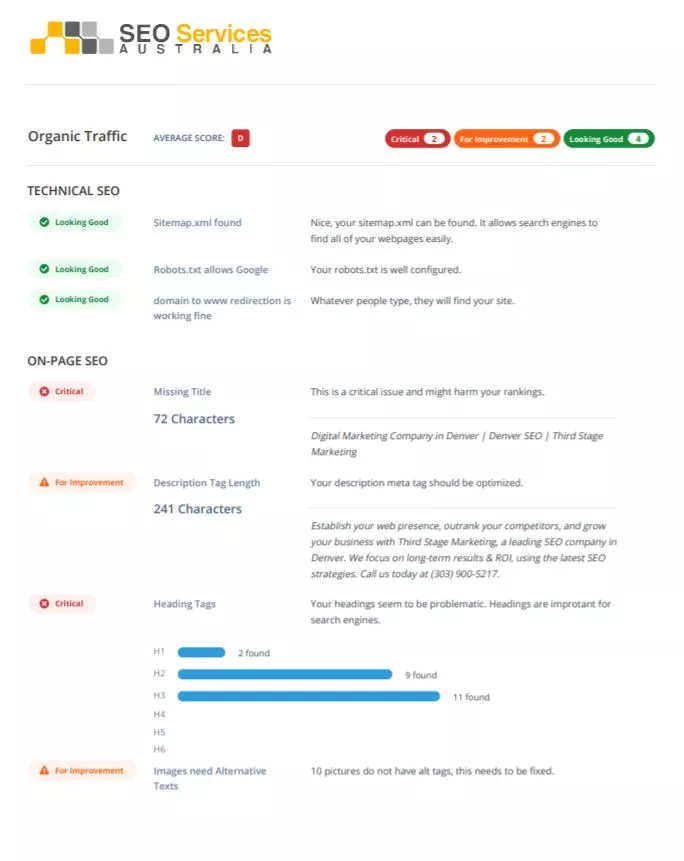 Our Free SEO Audit Will Help You Rank Higher On Google
Why is conducting an SEO site audit important?

The obvious reason is to know your website's performance, what elements you need to optimise, and the opportunities you can capitalise on. An SEO site audit isn't a 'check it and leave it for later' report. It builds the foundation of your SEO roadmap by providing you with:

– Insights on whether your current SEO efforts are effective or not
– Action points to include in the implementation of your SEO strategy
– Valuable information to set expectations and make informed decisions
– Recommendations to address technical on-page issues
– Data to compare your website's previous and current performance

Plus, our SEO site audit tool is free, quick, and easy! Just enter your details and your website's URL to generate your free SEO audit report.

An SEO audit can help you figure out what you're doing wrong in your existing SEO. Using the free website audit report we generate, we can recommend which SEO services you need to focus on and which ones you can do without. We can improve your on-page SEO, boost your conversion rate, and improve user experience (UX) for your clients. We can also improve website load speed, get high-quality backlinks, and improve PPC conversions and your overall media marketing and management strategy.
Partner With A Powerful Digital Service Provider
How Can SEO Services Australia Help You?

Although we are known as a professional SEO company in Australia, that isn't the only thing we offer our clients. We also provide web development services, PPC services, and social media services. These SEO services point towards one goal: to boost your website's visibility and establish your credibility as a brand.
Start Building Your SEO Campaign Today
Sign up today!

The Sydney Opera House wasn't built in a day. The same goes for your SEO campaign. Start building your campaign today to enjoy its results for years. Sign up for a free SEO audit to get started.
Free Website SEO Analysis FAQs