Whether you own a swimming pool construction or cleaning business, a costume store, or a Christmas tree shop, you have probably experienced the challenges of the dreaded off-season. Seasonal trends and changes affect all businesses at one point or another, but those who sell products that align with seasons are affected the most.
After your peak season ends, you likely experience a stretch of slow business for weeks on end, and your storefront (and your website) becomes a ghost town. On top of that, who says your last peak season customers will remember you when the time of the year finally rolls around?
The Importance of SEO Services Even During Off-Season
It is discouraging, but don't let the low season get the best of you and stop you from investing in SEO services. Remember, search engines don't have an off-season! You may be tempted to take a little break but once you do, you'll start seeing a dip in your rankings and you may not recover once your season is in full swing again. Plus, Google and other search engines continuously look for fresh website updates, blog articles, images and social media activity. Taking time off just signals to Google that you're inactive.
How to Leverage SEO Services During Off-Season
The following tips—and our help, of course—can get a site back in the highest possible position in the SERPs even if it's not your time of the year.
Plan Your Campaigns Early
Timing will always be everything for seasonal businesses. Plan well in advance, and focus your planning efforts on social media. Think about Facebook, Twitter, and Instagram as your virtual year-round storefront. Use various social media platforms to offer special discounts, publish testimonials, share content, or run contests to generate interest even during low season.
It's also a good idea to use Google Trends and find out the exact period people are searching seasons products, services or events. Once you've identified trends, you can plan to optimise and push out articles or website updates at least 6 weeks in advance of the seasonal shopping periods.
Additionally, your off-season is the best time to evaluate the impact of the SEO services you've invested time and money on. What worked and didn't work for your business in terms of SEO during peak season? Analyse the results you've seen and find ways to make your strategy evolve with the shifts in consumer behaviour.
Conduct a Website Audit
While you're not busy with daily business operations, take some time to look into your website's technical operations. There are a lot of free audit tools from providers of SEO services that you can use to conduct a health report on your website.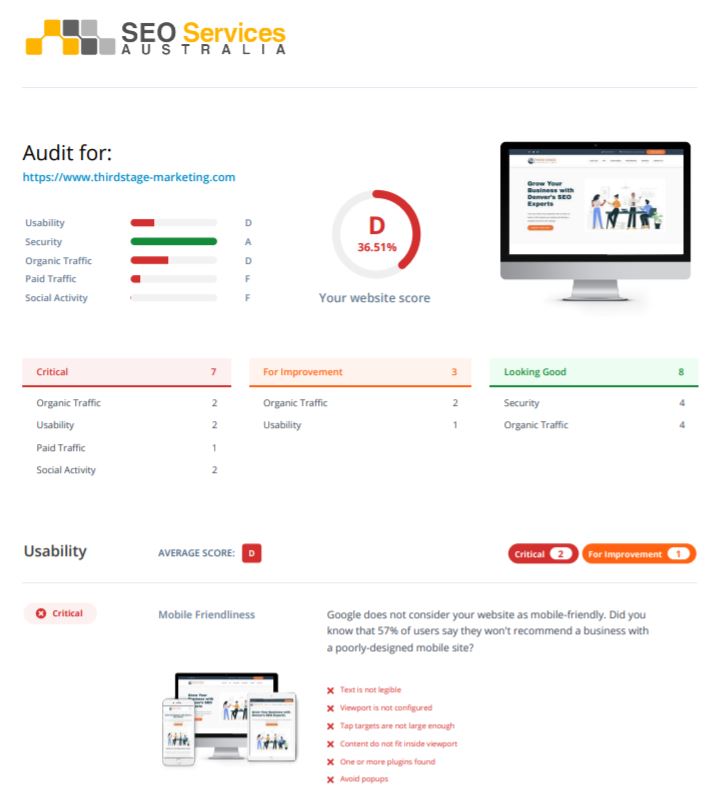 During the audit, it's good to check the following areas:
Broken links – these are annoying, create a negative user experience, and are basically bad for your website's SEO. Recent studies from SEMrush indicate that broken links are a huge issue so don't be surprised if you have them too. Whether it's internal or external links that are broken, it's up to you to find and fix them.
Site speed – website visitors care about site speed and affect your bounce rate. Pages that load within three seconds have a 9% average bounce rate while those that take more than five seconds to load have a bounce rate of 38%. Work on your site speed and keep it as fast as possible.
Mobile responsiveness – Google has stated way back in 2015 that mobile friendliness is a huge SEO ranking factor. That said, it's a good idea to check your site's mobile responsiveness and ensure it looks and performs well on mobile devices.
Grow Your Database During Peak Season
During peak season, business will surely be booming. Grab the opportunity to grow your database while business is thriving and everyone is still around. Build a list of past clients and people who are interested in your products. They might not be too helpful come low season, but during your next peak, you can easily convert new leads into customers with SEO services.
Beef Up Your Directory Listings
Your off-season is the perfect time to add or improve your directory listings, which are especially important for local SEO. Depending on how much work you've done with directory listings in the past, you can use your downtime to do the following:
Create more listings for your business if you haven't claimed certain directory profiles yet.
Add or improve the content to the listings you already have. For example, you can update your contact details, add photos, and add more tags to the descriptions.
Request Reviews and Testimonials from Past Customers
If you have customers who were happy with your products and services during the on-season, ask them to leave you a positive review on your website or social media accounts. There's plenty of evidence stating that these reviews not only build trust with your audience, but improve your SEO too.
Reviews and testimonials remain one of the best examples of social proof. Plus, you can repurpose them throughout your marketing channels for months to come, from website copy to social media posts.
Even better, you can use the off-season to create personalised email templates that automatically get sent to customers during the on-season, asking for their feedback or reviews.
It can look something like this:
Hello, [name]!
Thanks for your recent purchase with us! We'd love it if you could leave an honest review on our site.
[link to your website]
We hope you're happy with [insert item] and we look forward to future transactions with you! Help us improve our products and services with feedback.
Sincerely,
[signature]
To increase your chances of getting a response or a review, use creative and interactive ways to hook your audience. This can be through GIFs, polls or innovative CTA buttons. You'll also have a bigger chance of scoring a review if you reward customers for sharing their thoughts. Anything from discounts to special offers will entice them.
Continue to Create Content—but Introduce Timely Changes
Low season or not, it's still important to produce brilliant content. Change things up a little, though; for instance, if you run a melon farm, winter months can be tough. However, you can still create and share engaging content such as making a healthy smoothie with frozen melons or a recipe guide that can make frozen melons taste better.
Just because your potential customers cannot use your products right this moment does not mean they would not benefit from the information you give eventually. If you can do it, you will build relationships that will last whatever the season is.
Rank High Even During Off-Season with SEO Services Australia
If you only think about SEO when your season's about to start, you're already a season too late! Improving your SEO rankings isn't an overnight job. It takes weeks, sometimes even months, to jump from a position on the third page to the first.
Remember, your business may be closed but the internet is open 24/7. Whether your lights are on or not, Google, Bing and the other search engines are stopping by your site (crawling your site) and ranking it.
Joining the search volume trend is incredibly hard, but they can also be extremely rewarding. Take advantage of the off-season with SEO Services Australia! With the help of our experts, you can gain a huge lead over your competitors even during low season.