With all the marketing tools at a company's disposal nowadays, it becomes easy to ignore or forget about some of them. In all this flurry, you may want to hop on to the next big thing but before you do that, you might want to focus on your email marketing strategy. Over the years, email marketing has proven to be one of the most effective marketing techniques with its high ROI and broad reach.
In this article, we zoom in on the benefits of email marketing campaigns and show you how you can start an email marketing campaign even without subscribers.
What Is Email Marketing?
First things first, what is email marketing? In a nutshell, it is a digital marketing tactic that involves communicating with potential leads and customers via email. If you have ever received newsletters, event promotions, and discount offers in your inbox, then those are examples of email marketing.
Email marketing is one of the more effective digital marketing practices because it allows you to have a direct line of communication with your leads and customers. This direct line is what makes conversion easier. You also have complete control over how your content (at least the email's content) will be seen—which is directly in the inbox of your leads and customers. With this, you can even segment your campaigns to make sure that you're sending messages to the right people!
Research also shows that you can get more engagement with email marketing. This study by MailChimp shows that the average email open rates for email campaigns is 21.33%. This is a far cry from Facebook's less than 1% organic engagement. Perhaps this is because the people in your subscribers' list have already consented to receiving emails from you. Whatever the reason is, you can be sure that with an email marketing campaign under your belt, you have a higher chance of engaging with leads and customers.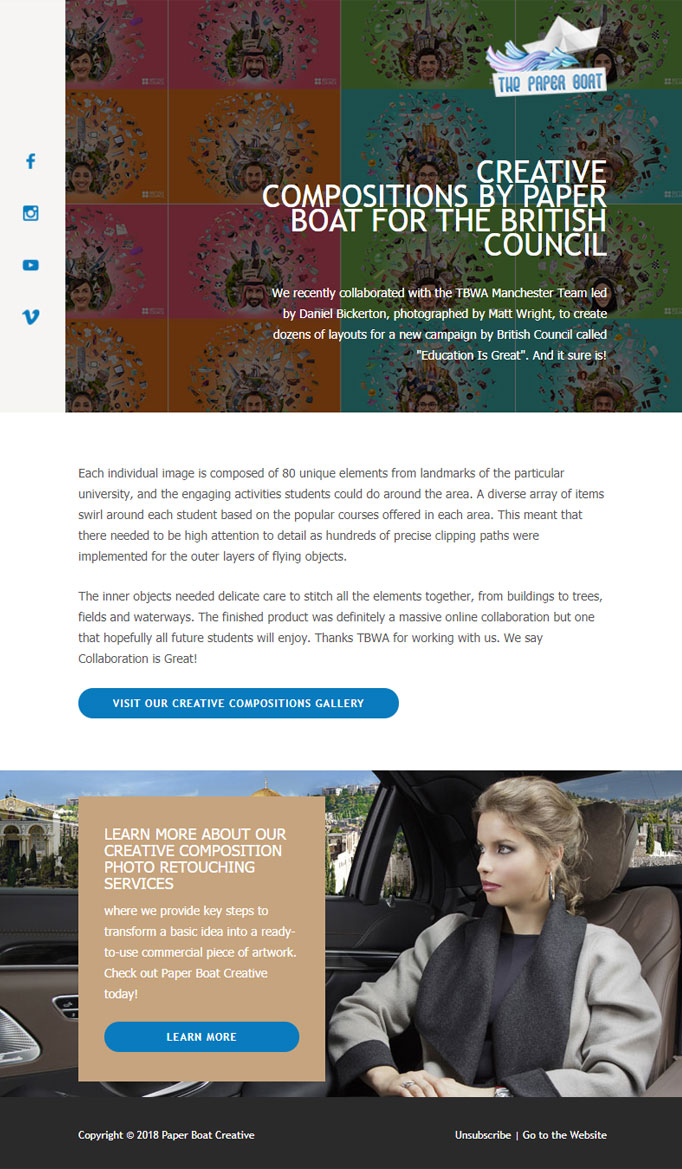 What Makes Email Marketing So Effective?
Email marketing remains one of the most effective digital marketing practices because of several reasons. Below are some of the reasons most digital marketers continue to utilize email marketing:
It has a larger reach.

Compared to social media, almost everyone has at least one working email under their belt. After all, when you sign up for social media, you need to sign up with an email. Anyone with an online presence nowadays has an email address and if you decide to utilize an email marketing campaign, you're one step closer to reaching them.

Your message is delivered.

While it may seem that social media is the easiest way to get your message across, it actually isn't. Facebook limits the number of times your posts appear in timelines and news feeds to make way for their paid advertisements. In contrast, your emails have a higher chance of getting delivered into the inbox of your leads and customers. In other words, using an email marketing campaign lets your target audience see you. When you utilize email marketing, you maximise your reach and channels.

Another thing to remember is that your email subscribers have given you consent to hear from you. This means that there are lower chances of your potential customers getting annoyed with you.

Email marketing can drive higher conversions.

For most marketers, the goal is to get the audience to convert. After all, a conversion means that you got a previously potential customer to purchase your brand. Emails have one of the highest conversion powers.

Since people on your email list have consented to receiving messages, you have a higher chance of getting them to buy your products. In fact, a reached through email marketing actually purchase something. Compared to the 2.49% brought in by search engines and 0.59% from social media, this means that email marketing does indeed get you a higher conversion rate.

It has a higher ROI.

Considering that email marketing is one of the channels that has one of the highest conversion rates, it's not surprising that it's also one of the channels that has the higher ROI. In fact, for every $1 spent for email marketing, Campaign Monitor reports an average of $38 as a return of investment.
How To Start an Email Marketing Campaign?
Since email marketing campaigns are proven to be effective, you might be wondering how you should start one. In theory, it might seem that all you will do is send emails but it's a little more complicated than that. Still, just because it can get a little complicated doesn't mean you won't try. Here's a quick guide on how to start an effective email marketing campaign:
Establish Your Goals

First and foremost, establish your goals. Before you send out mass emails, it's important to think about your goals and what you want to achieve with your campaign. This lets you know what specific type of campaign you can concentrate on.

With a clear goal for your marketing campaign, you can also shortlist what kind of content you send to your email list. If you're thinking about the kind of content you need to send out, here's a quick overview of the email types that an email marketing campaign usually sends out:

Newsletters

Newsletters are one of the most common email campaign types that people subscribe to. It's usually good to send out this kind of content if you want to keep in touch with your subscribers. Email newsletters, much like printed newsletters, usually have a central topic or theme. Keep your content fresh and exciting so you can continue to engage with your customers.

Event Invites & Announcements

Invites or invitations are usually sent out when you want to increase awareness about an event. This is useful for brands that have a lot of webinars or a product launch. Announcements usually give information about a new product, event, or feature. If you want to keep existing customers engaged, send out an announcement about anything new from you.

Marketing Offers

You should send marketing offers to drive sales, although if your email marketing goal is to get a direct response from your subscribers, then sending them a marketing offer is good as well. Show off a new product and encourage them to make a purchase with this kind of campaign. If you're also offering discounts or promos, then this is a good kind of content for your subscribers.

Build a Targeted Email List

Once you've established your goals, then it's time to build your email list. Your email list refers to your subscribers or the number of people you'll be sending your emails to, and it is the bread and butter of your email marketing campaign. Once you have an email list, then you can plan your next actions from there. Here are some tips to remember when building your email list:

Optimize Your About Page

If people are on your About page, then chances are they are interested in you! Interest means a higher chance of subscribing. Put at least one email sign up form in your About page just to be sure you aren't missing out on potential email subscribers.

Get a "SQUEEZE" Page

A Squeeze page is basically a landing page that's designed to convert individuals visiting your website. Some people are going to need a little more push, in which case it's best if you have a page that's dedicated solely for converting them. Even better, create several Squeeze pages for different audiences, so you know why they subscribed.

Create Compelling Lead Magnets

Lead magnets are basically what you offer visitors on your site in exchange for their email or subscription. It is also the lifeline of your email marketing campaign. A good thing to remember if you're finding it difficult to create lead magnets is to offer subscribers something they can use now. Create compelling offers or lead magnets to gain more subscribers.

Optimize the Homepage for Email Signups

Just so you're sure, create a homepage that's optimized to convert visitors into subscribers. This is something that websites with huge subscribers do, so there's absolutely nothing wrong if you try it out yourself!

Measure Campaign Results

You can look at the following metrics to know if you're doing something right:

Open Rate

The open rate is the most straightforward metric you can associate with email campaigns. Basically, this metric refers to how many subscribers open the emails you send. On average, most campaigns have an open rate of 24%, which means that if your campaign is above average then you must be doing something right. Open rates also indicate how effective your subject lines are, as subject lines are.

Click-through Rate

Click-through rates, also known as CTR, indicates how many people clicked on the links in your email. Take note that CTR is, on average, lower than open rates—so don't get worried if those numbers don't match up. For most campaigns, the average CTR is 4%.

Conversion Rate

The conversion rate refers to the number of people who clicked on the link and performed a specific action. Conversion rates give you an insight on your return of investment, in particular whether your investment in the campaign is paying off. The conversion rate basically tells you which of your subscribers are responding to your campaigns.

Bounce Rate

The bounce rate refers to the number of subscribers that didn't receive your email. For bounce rates, you have to take note of the kind of emails that don't receive your emails. Hard bounces refer to permanent problems with the emails, while soft bounces track the temporary problems. If your bounce rate has a high percentage of hard bounces, it may indicate a problem with your subscriber list.

Number of Unsubscribes

This metric is quite straightforward, as it counts the number of people who unsubscribe from your campaign. Having a high unsubscription rate may be discouraging for you, but experts find that this actually a good thing. For them, it means that you are fine-tuning your subscriber list. Additionally, this lets people choose the kind of content they receive from you, fostering trust in your brand.
Try Out Email Marketing If You Haven't!
Email marketing may not seem like the next big thing–that's because it's not! It's the constant and stable practice in digital marketing that has always been there. Email marketing is one of the most effective digital marketing practices around because of its large reach, high conversion rate, and high ROI. If you haven't utilized email, then you're seriously missing out. Strategize and create an effective email marketing campaign based on the information above and watch your subscription list grow!