The online marketing landscape is in a constant shift as new tactics, technologies and services gain popularity and become the new standard. E-Commerce businesses are one of the many sectors affected by constant evolutions. A vast majority even invest in e-Commerce SEO so that they can stay ahead of their competitors.
However, in order for these online stores to survive and thrive, they need more than just high rankings on Google. In such a competitive and fast-paced market, they need to make better-informed decisions fast. This is where e-Commerce analytics tools come into play.
e-Commerce analytical tools or software show real-time data that lets you track your site's daily performance. These tools help you:
Convert more customers, whether they are email subscribers, cold traffic or social followers
Stop playing guessing games with your budget
Figure out your pricing structure to bring in new customers and keep lifelong customers
In no particular order, we list the best analytical tools for e-Commerce that will help you improve your conversions and create repeat customers.

Best Analytical Tools for e-Commerce
Google Analytics

Of course, we'll start this list with the most popular e-Commerce analytics tool: Google Analytics. Compiling a list of the best analytical tools for e-Commerce without mentioning Google Analytics is like creating a list of Italian food and not mentioning pasta.

Google Analytics provides merchants with rich insight beyond base-level metrics. Users have the ability to track their traffic during each step of their funnel. This means they can identify drop-off points within the checkout process or weaknesses that lead to cart abandonment. Additionally, merchants can keep a close eye on:
Origin of traffic (mobile, desktop or tablet) and how those visitors are converting
The unique sales performance of on-site products, helping determine customer lifetime value
The pages where visitors are spending the most time on and which ones are increasing your bounce rate
The best thing about Google Analytics? It's free! No one will be able to resist the allure of an e-Commerce analytics software that's effective and doesn't come with a price tag. You can also set up an account in five easy and simple steps.
KISSmetrics
Need an e-Commerce analytics tool with advanced features? KISSmetrics is one of the best analytical tools for e-Commerce when you want to remarket to your massive audience and figure out which specific marketing channels provide the highest ROI. This advanced segmentation helps you identify which campaigns are performing well and the ones that aren't. For instance, you can see the churn rates and lifetime value of certain campaigns in a single click.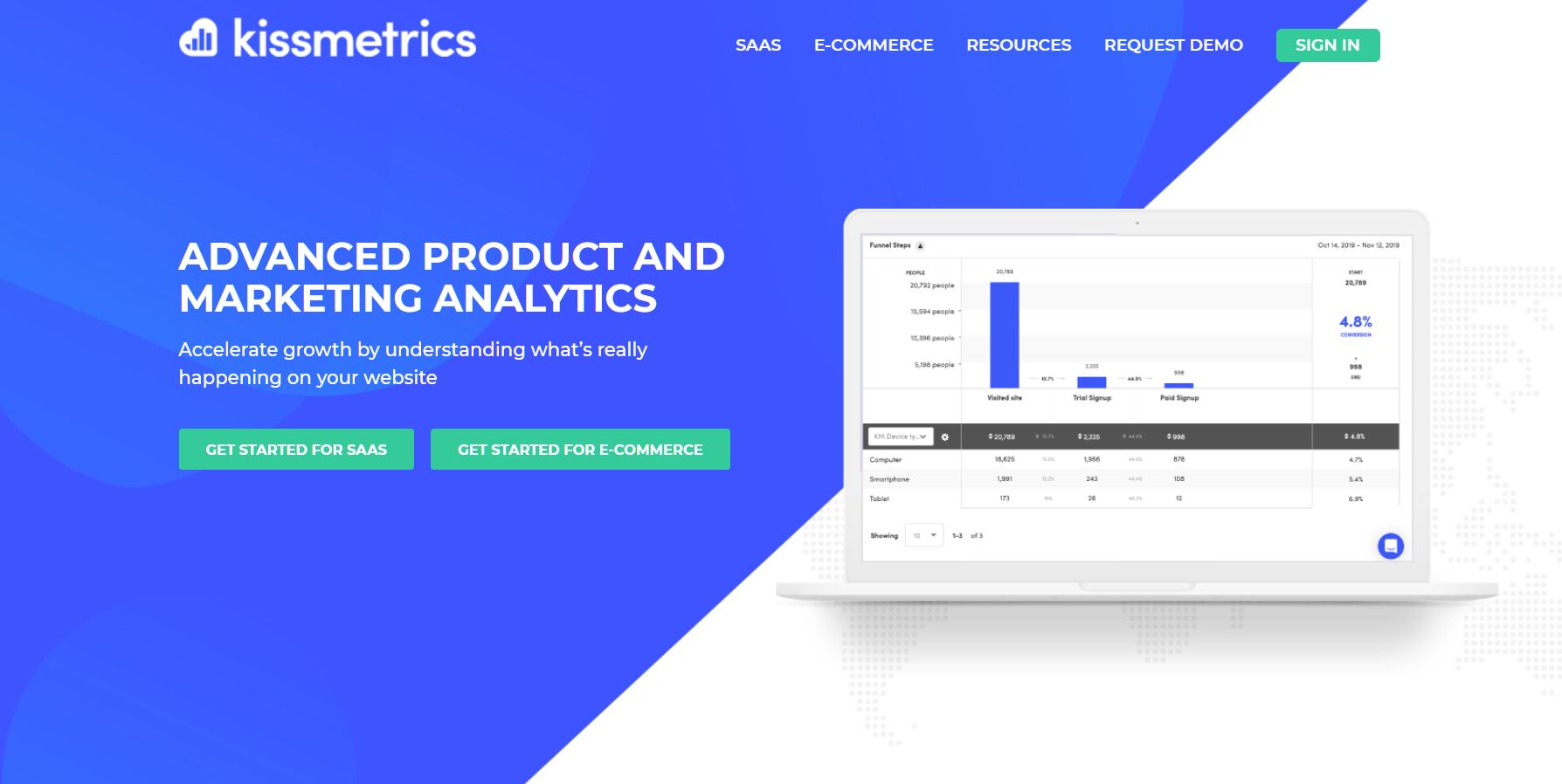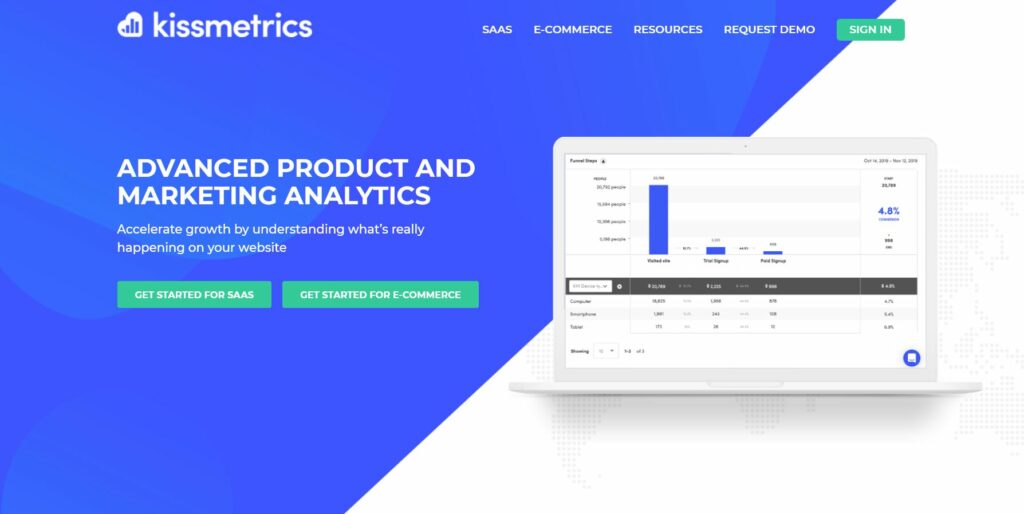 The e-Commerce analytics tool also delves into the design aspects of your site to help improve conversions. You can create and trigger pop-ups, notifications and light boxes to discourage visitors from leaving. It also lets you customise, segment and preview those triggers so you know what they look like in real-time to your audience, making it ideal for A/B testing.
However, its reputation as one of the best analytical tools for e-Commerce doesn't come without a hefty price tag. Plans start at $250 a month but if you want all of the platform's advanced features, you'll have to shell out $850 a month. For those with the budget, KISSmetrics can be your ultimate game-changer.
Adobe Marketing Cloud
Adobe Cloud is a powerful e-Commerce analytics tool often used by large e-Commerce sites. It's a single unified platform that lets you manage content, execute campaigns, automate ad buying and measure success stories.


Adobe Cloud's top features include:
Data-Flow analysis and reports
Audience and advertising analytics
Data visualisation and customisable reports and graphs
A/B testing
Segmentation IQ
Advanced calculated metrics
Social insights
Results-oriented analysis
The platform collects data from multiple sources and allows you to monitor customer clicks, cost, time and product references. It also lets you monitor traffic from search engines and ad campaigns. It then generates fast and real-time insights from data, making it a very effective e-Commerce analytics software.
Crazy Egg
Crazy Egg is another significant e-Commerce analytics tool that improves a website's performance, fixes bugs and tests new ideas to make your e-Commerce site run better. While it doesn't have the advanced features of other e-Commerce analytics sofware, it offers comprehensive and user-friendly graphs.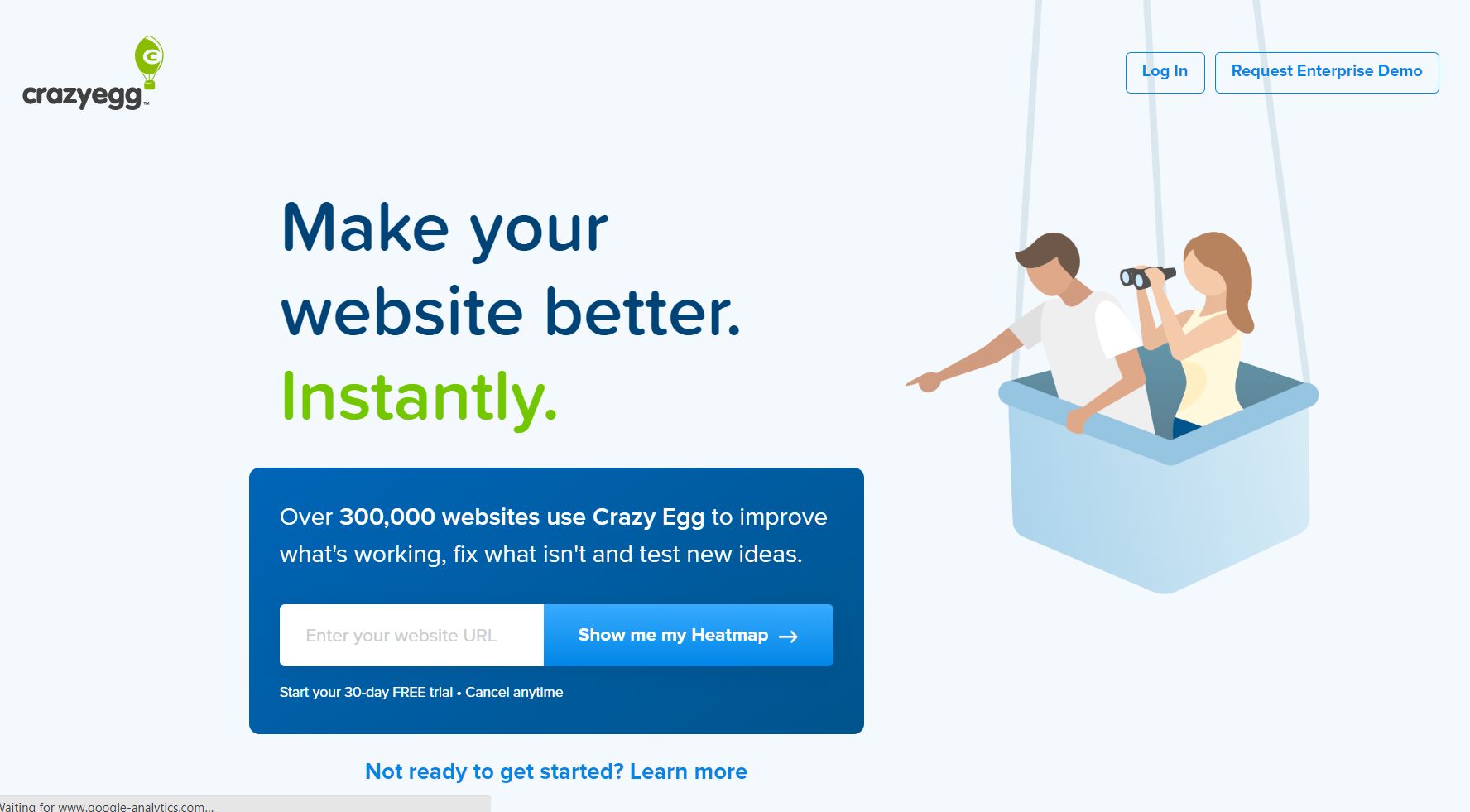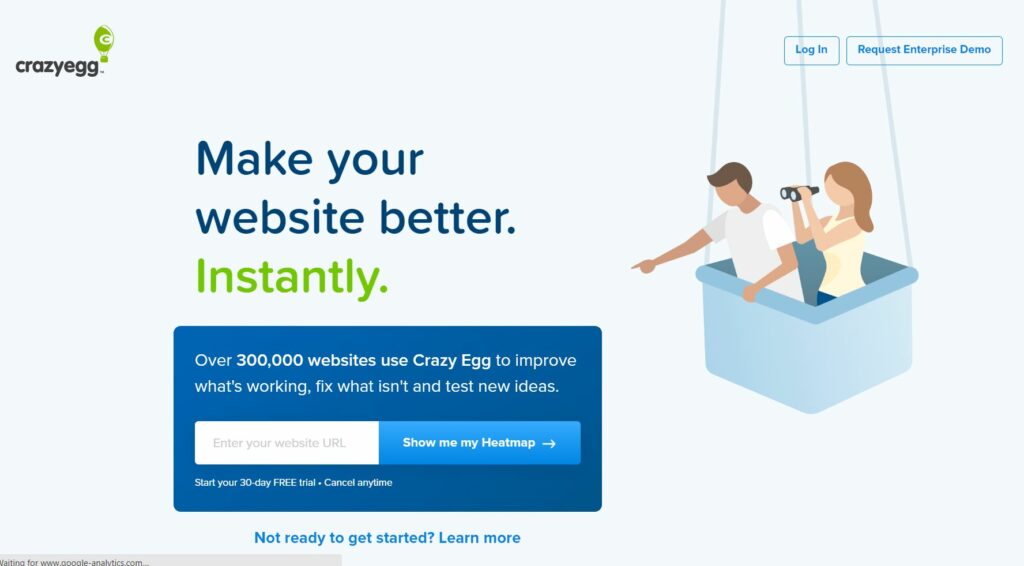 The platform also has Heat Map reports, which can be used to examine which areas your visitors are ignoring and the areas you need to focus on. It also records a user's entire session and has an A/B test interface.
HumCommerce
HumCommerce is one of the best analytical tools for e-Commerce sites on WordPress. Its core features include A/B testing, visitor recordings, form analytics and heatmaps. You can also take visitor screen recordings, which lets you see how visitors experience your store across multiple pages. Users also get a detailed funnel view/user flow that allows you to see how traffic flows around your site.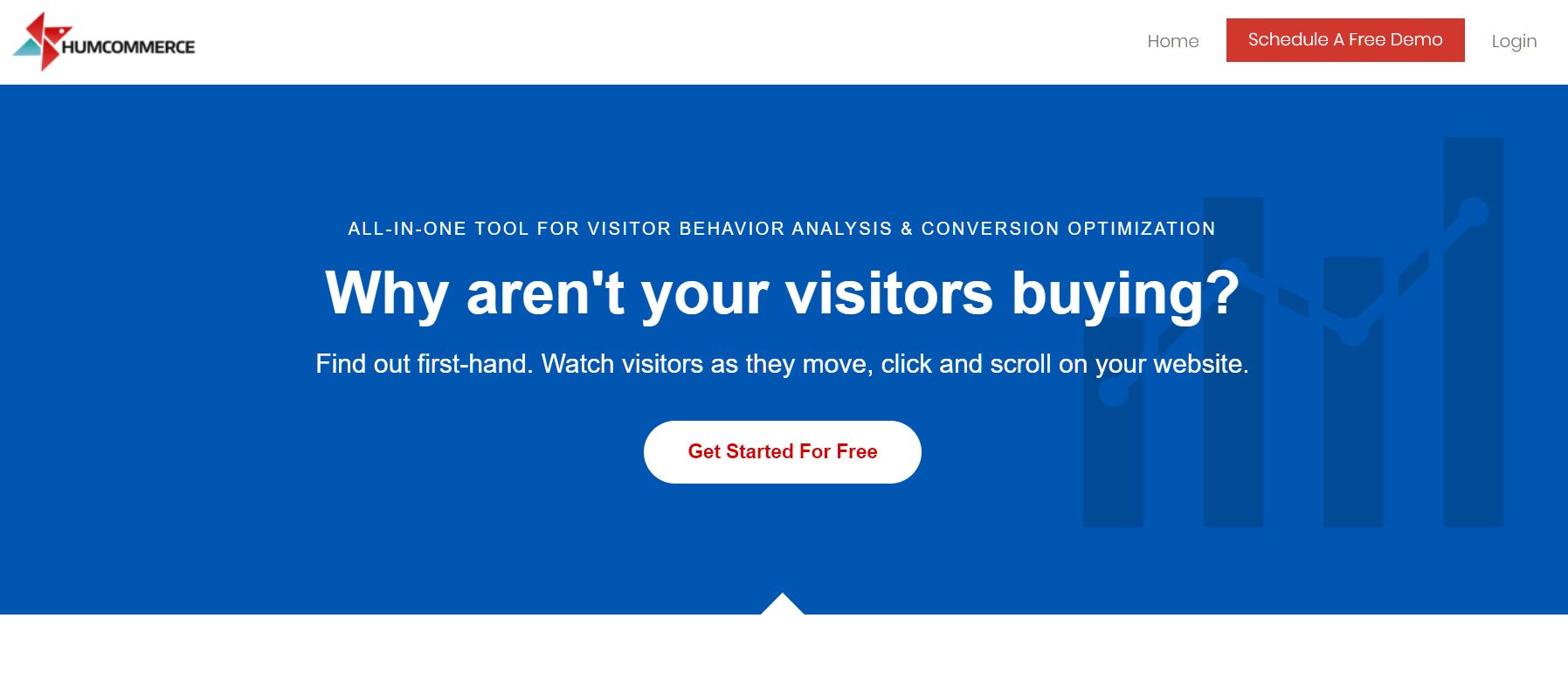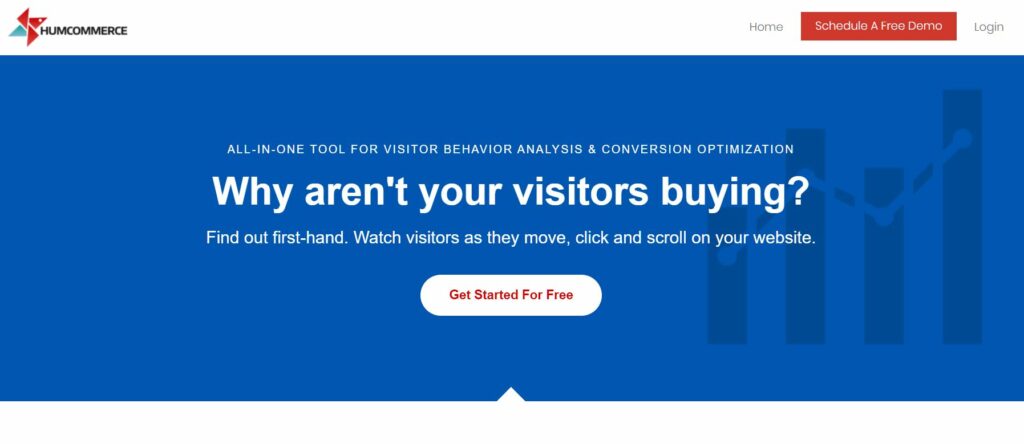 Another top feature if the form analytics, which enables you to track the overall form conversion rate and see which specific form fields cause drop-offs. This is extremely helpful for optimising your sign-up and check-out forms.
After all that data helps you determine your site's weaknesses, you can then use the built-in A/B testing functionality to run tests and improve those weak areas.
Beyond the e-Commerce analytical tool's core features, you also get access to:
Conversion funnels
Sales performance by location, category, product, etc.
Conversion attribution to see which channels are driving sales
Site search analytics
Metrilo
Metrilo is an actionable e-Commerce analytical tool that not only comes with data analytics, but also an integrated CRM and automated email marketing systems. This allows users to look at reports and act on them instantly.


The platform also comes with a Customer Retention analysis, which lets you understand a customer's life cycle, helping you send out marketing material at the right time. This means you can turn casual visitors and one-time buyers into loyal patrons — a feature that's rare even among the best analytical tools for e-Commerce sites.
Metrilo integrates well with Shopify, WooCommerce and Magento. It provides you with e-Commerce analytics that help fine-tune marketing activities and ultimately boost sales.
Custora
Custora plays a remarkable role as an e-Commerce analytical tool. It takes control of customer acquisition, customer retention and amplifies conversion rates.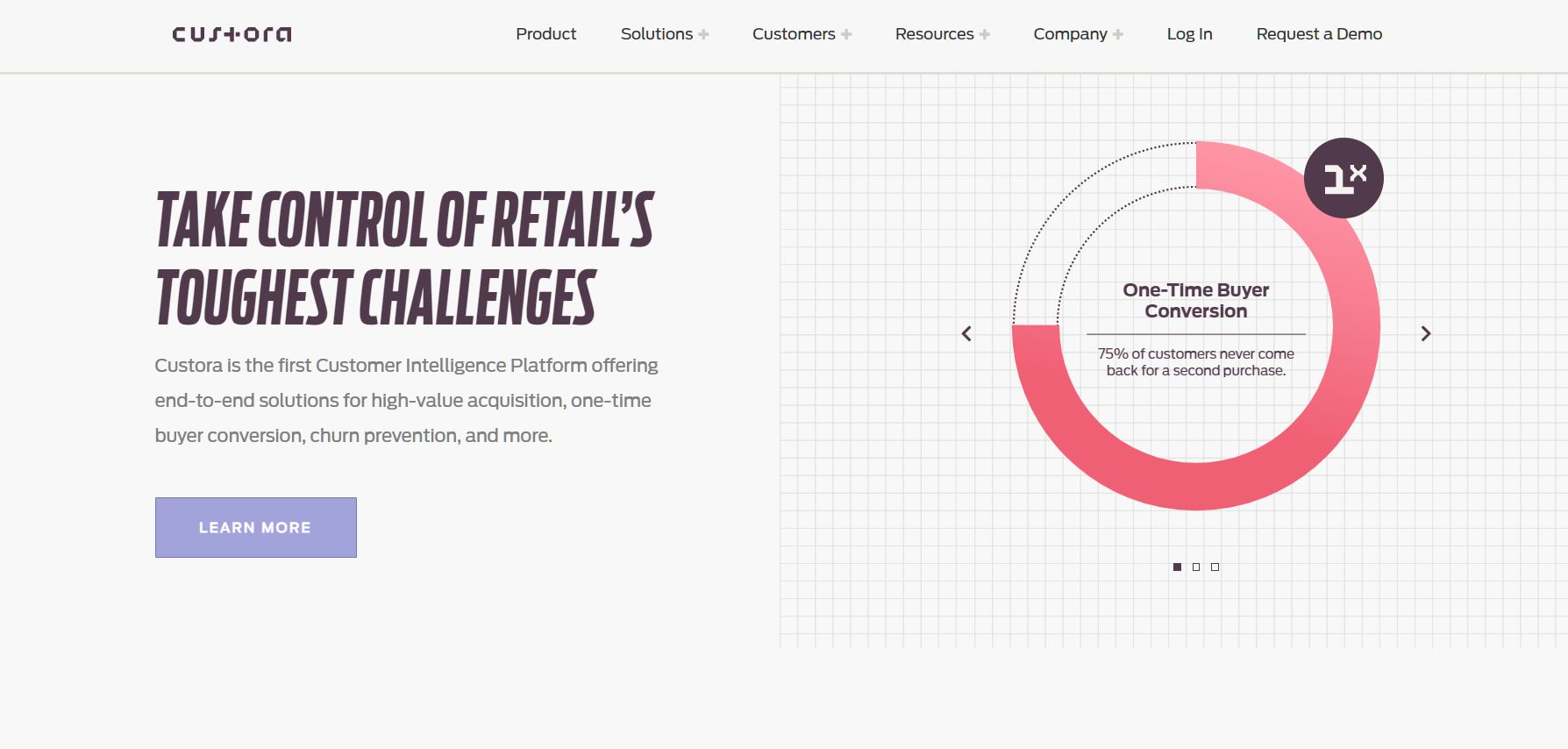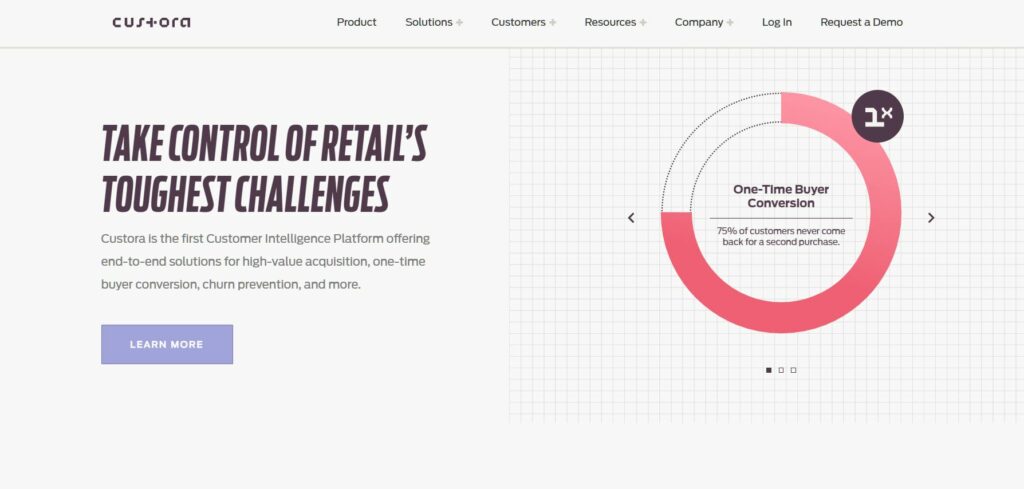 Its top features include:
Natural language queries
Marketing and channelling campaigns
Lifecycle segmentation and reporting
Dashboards and KPIs
Churn analysis
Cohort analysis
With all of its top and advanced features, the platform drives insightful and inclusive customer profile and anticipates hidden relationships. Custora also uses customer analytics and integrates directly with ESPs to help businesses deliver more relevant messaging through targeted and well-timed emails.
Woopra
Want one of the best analytical tools for e-Commerce sites that will get you laser-focused real-time customer analytics? Go for Woopra. It offers end-to-end customer journey analytics, minus the complex SQL queries. It directly answers queries so users can make smart decisions with a fast, data-driven approach.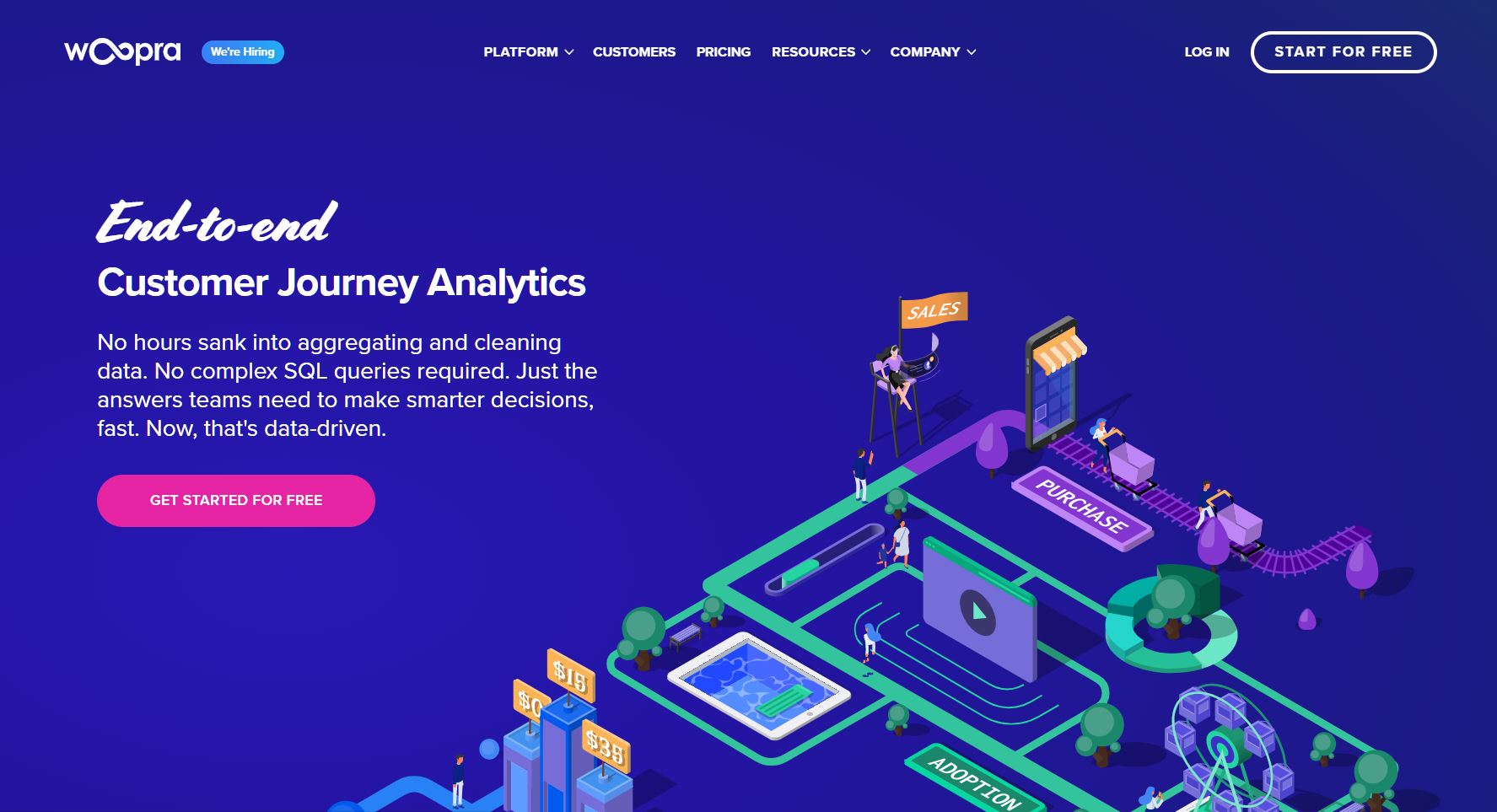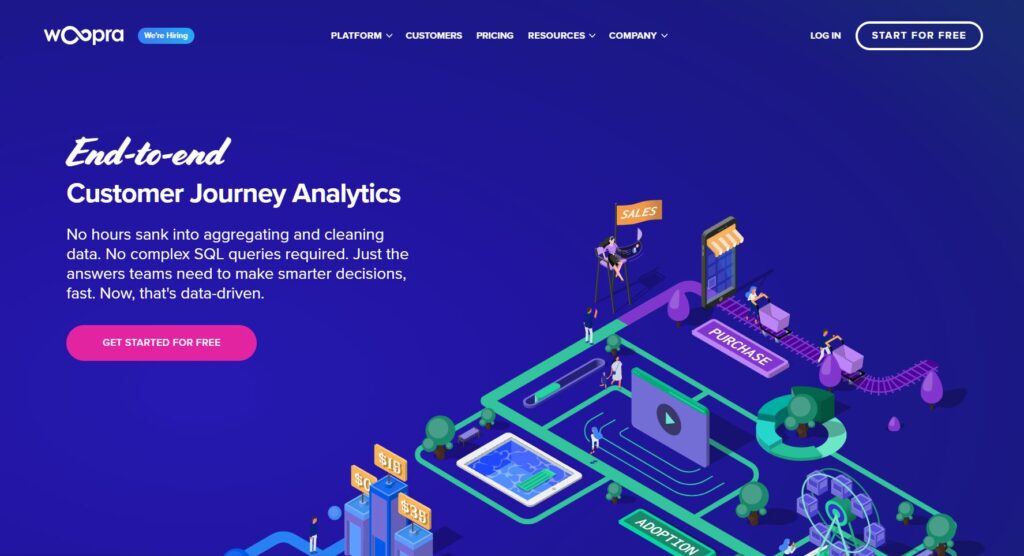 Its top features include journey reports, cohort reports, trends reports, behavioural segmentation and retention reports. It also triggers messaging and you get a dedicated accounts manager. Real-time benefits include fully automated insights, personalised customer experiences, customised tags for configure reports, follow up triggers for site re-visits and one-click easy integration.
Visual Web Optimizer
Visual Web Optimizer is one of the best analytics software for e-Commerce if you want to improve engagement for your customers. This is because the platform's main focus is user research and optimisation. You can create segments, identify customer needs and then create experiences that will match those needs. The software offers over 20 predefined segments for personalisation, including query parametre and new versus returning visitors.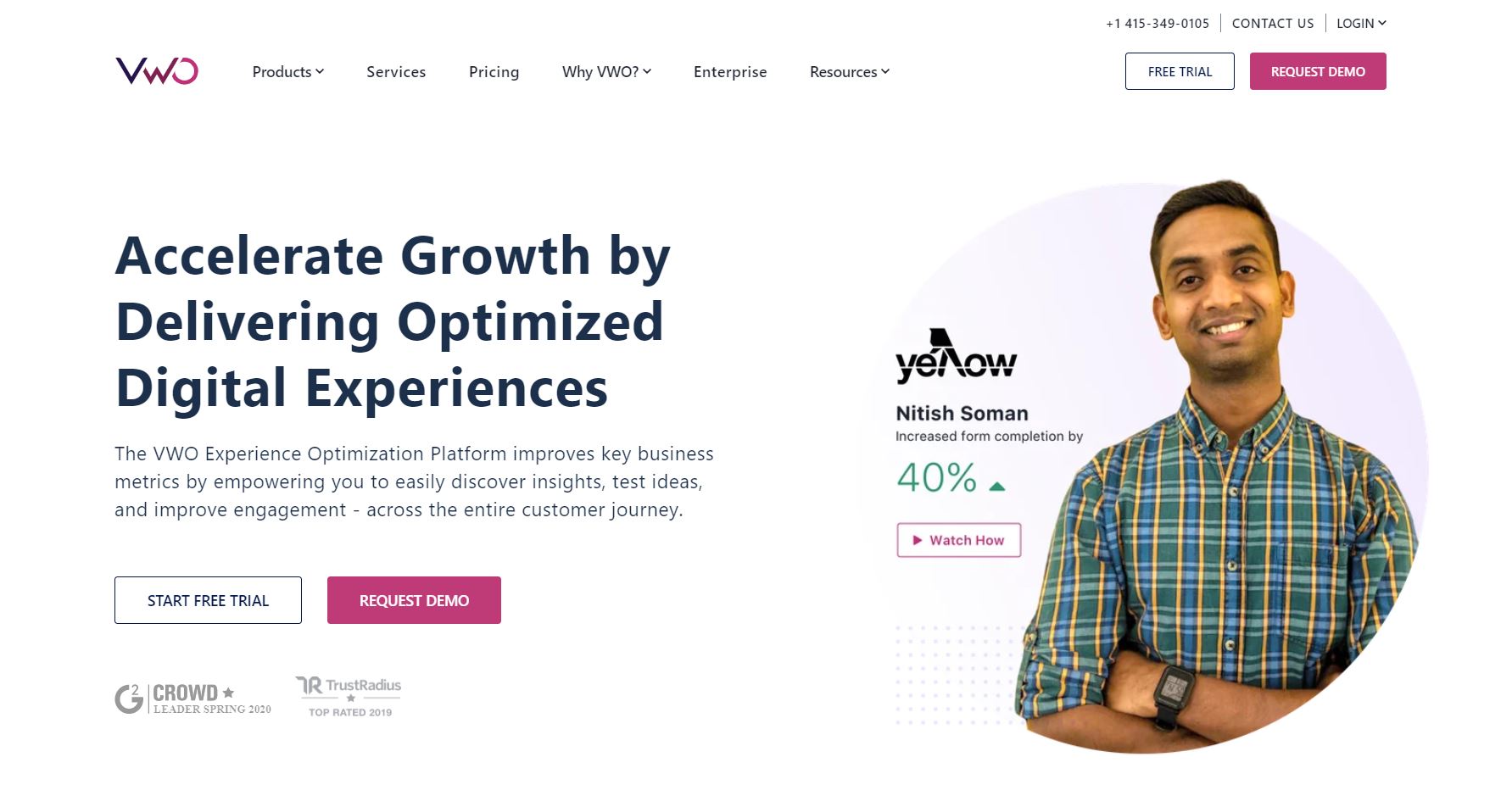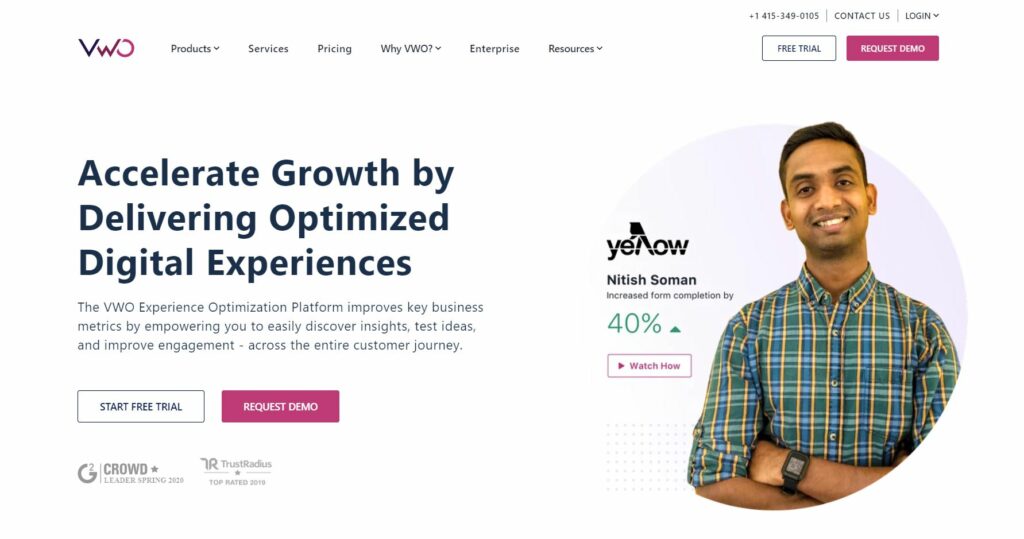 Hotjar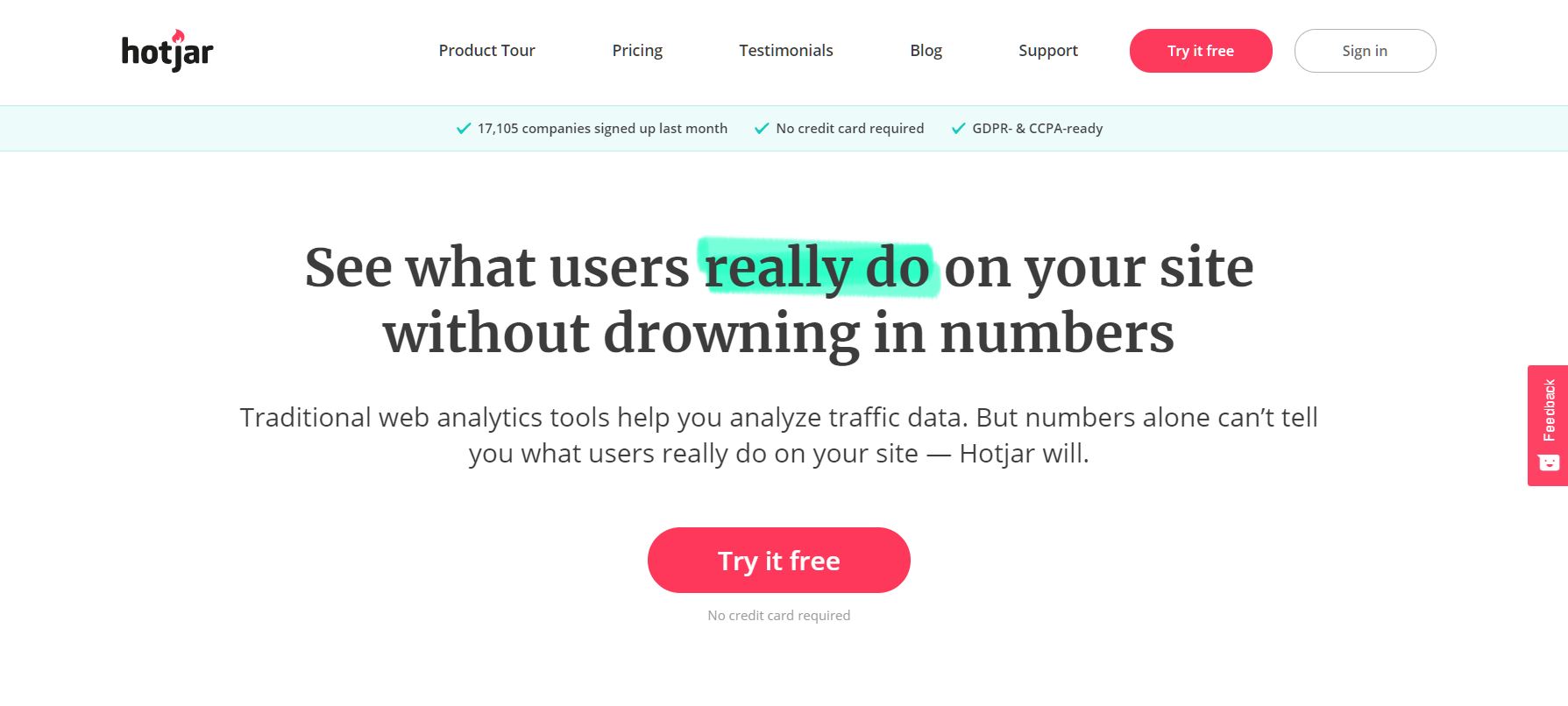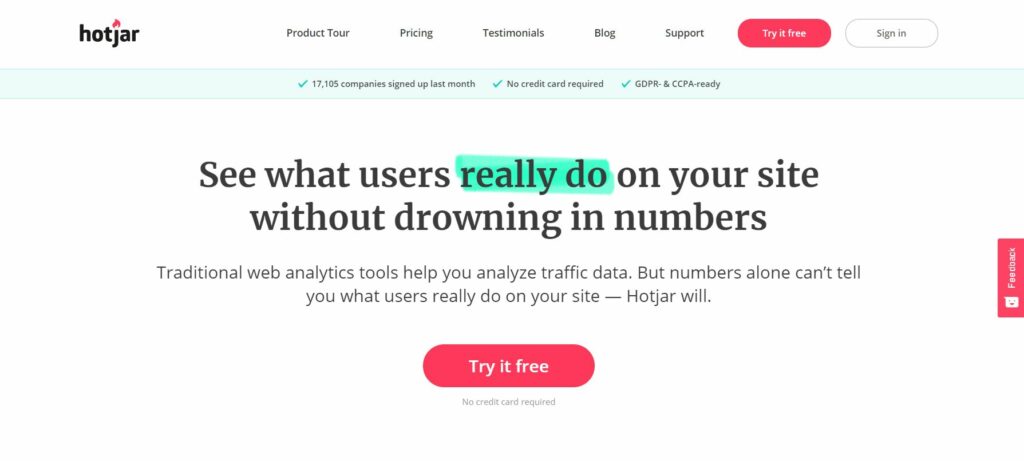 Hotjar is one of the more recent e-Commerce analytical tools, offering all-in-one analytics and feedback. The software's key selling point is that it comebines various critical analytics features with user feedback tools. Its full list of features includes:
Heatmaps
Visitor recordings
Conversion funnels
Form analysis
Feedback polls
Incoming feedback
Surveys
Recruit testers
All of these provide users with a fast and visual way to understand your site's visitors every move, uncover insights and help you make the necessary changes.
As technology evolves rapidly and shopping trends shift on a day-to-day basis, metrics are essential when it comes to managing a successful e-Commerce business. Those who don't anticipate changes in the market using reliable data insights from the best analytical tools for e-Commerce will be left fumbling in the dark.
Yes, it's wise to have SEO spend and invest in digital marketing tools but those alone won't help you thrive in such a competitive industry. Choosing the perfect e-Commerce analytics tool for your company will assist your business in getting more traffic, sales and satisfied customers.
Hopefully, with the list above, you'll find the e-Commerce analytics software that satisfies your needs. As long as it's easy to use, concise and gives you all the data you need, it will be the ultimate game-changer for modern marketers and merchants like you.