No matter how many thousands of users end up on your business' website, it's important to remember that the endgame of SEO services is not to simply drive traffic to your website but to turn a profit from that traffic. To do that, a portion of that traffic either navigate your website long enough to reach that point in their buyer's journey where they checkout with products on their cart, or be driven to give your business a call and turn their website visit into a profitable sale.
One of the ways to keep track on how successful a digital marketing campaign is is not by traffic but by the leads you get from the traffic. Here's more about leads in digital marketing you need to understand.
Understanding the Buyer's Journey
Unfortunately, not all the traffic that makes it to your website will end up becoming a paying customer. Before we can explain what leads are, it's important to know the basics of the buyer's journey.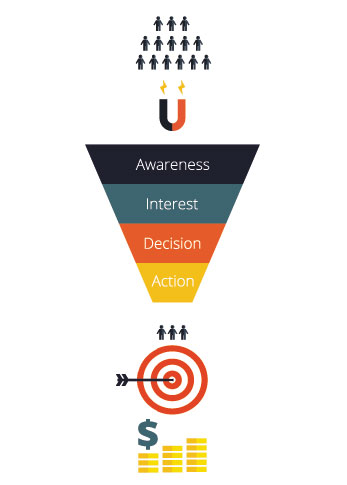 The buyer's journey is a process that users go through beginning from the realization that they need something and ending when they decide to purchase what they need. It's divided into three stages:
Awareness
Potential buyer realizes a want/need for a product/service; they're looking for information about what it is they're looking for but not necessarily a place where to buy it. In this stage, they turn to blog posts, e-books, reports, social media posts, and other informative outlets.
Consideration
The potential buyer realizes a want/need, but there are plenty of similar products/services and they're not sure which store to buy it from. Those in this stage turn to product comparison blogs, product reviews, and other sources where they can compare different types of products in the market.
Decision
The potential buyer is ready to make a purchase. However, they're now browsing for potential vendors that can offer what they want. They're not looking for a hard sales pitch because they already know what they want. What they're looking for is the most convenient, safest, and best deal various vendors can give.
Not all those that visit your website will leave with a purchase or contact your business because majority of them aren't at the final stage of the buyer's journey and are there with the intention of buying from you. Some are there because they're looking for information on products, while others may be comparing products, services, or sellers.
What Is a Lead?
The definition of a lead may vary by different businesses, but generally speaking, a lead is a potential buyer who stand out from all your traffic because they're taking the next step towards becoming a paying customer.
For an online store, this can mean someone who subscribes to a newsletter in exchange for exclusive store discounts or creates an account but has yet to purchase anything. These examples hint that the user is taking one step closer to buying a product on your store, making them stand out against a sea of users who simply look at your website and leave without doing anything.
Or let's say your business provides landscaping services and your website advertises a free consultation. The users who email inquiries or call your business' phone number can be considered leads because they're taking the next step towards becoming a paying customer.
Why Leads Are Important
Your business' website will not be profitable with just high traffic (unless you allow Google Ads to put PPC Advertising on your website, but that's a whole different story and doesn't drive you revenue from your business' actual product or service). Leads are important not only because they're one step closer to becoming a paying customer, but because it indicates whether your business website is optimized for those nearing the end of their buyer's journey.
Let's say that your website is getting an above-average amount of traffic, but you're not making enough online sales to get an ROI on your digital marketing budget. If you go through your website and look at factors like content, web design, and overall user experience, your website may be optimized for people who are in the Awareness state of the buyer's journey and are looking for information for a product or service.
But when it comes to people who are at the final stage, you find that your website has nothing to convince users to make a purchase with you. Your content isn't attractive, your web design makes it difficult to navigate, and your customer service is not that great. Your website might have been a good place for information during the early stages, but now that it's time to make a purchase, these users may find your competitors' website more optimized for the stage they're in.
Generating Leads
On your business' website, leads are usually generated in the form of new accounts, newsletter subscriptions, inquiries, and those who make an effort to be one step closer to become a paying customer. A full digital marketing strategy, however, provides more opportunities to generate leads, including:
SEO
By getting your website at the top of search engine results, you're putting your business on the spotlight for keywords often used by people towards the end of their buyer's journey. For example, if you're trying to generate leads, you wouldn't try to rank for the keyword "laptop" because there's a chance that those who search for it aren't driven to make a purchase. But those looking for "Lenovo thinkpad edge e10" are most likely at that stage where they're looking for product reviews about that laptop or online stores selling that specific model.
Social Media
Facebook Lead Ads or business social media accounts encouraging people to like their page (to stay updated on sales and other promos) or to send a message for inquiries. Go on relevant social media platforms where your target audience is likely to find you (e.g. B2B businesses on LinkedIn, B2Cs on Facebook).
Tapping at Old Leads
Just because a lead has been closed does not mean that they can't be a future lead and make new purchases. Reaching out to old customers through social media or email can drive leads.
Closing the Lead
If all the factors are right – your website is optimized, your web design is user-friendly, you have convincing content to attract users interested in purchasing – you close the lead when that lead becomes a paying customer.
Finally, it's important to identify leads because not all these leads end up becoming closed leads. As much as you want your business to attract users on every stage of the buyer's journey, you have to take note of how many leads you're getting on an average to assess the success of your digital marketing strategy. Not all traffic becomes leads, and not all leads become sales. If there's a discrepancy in that chain, then perhaps it's time to get your website optimized to get people onto your page when they complete their journey.
Let SEO Services Australia help you turn website visitors into paying customers by finding ways to drive quality leads to your website. Give us a call today for a free consultation.